The Summer Run 2023 has started!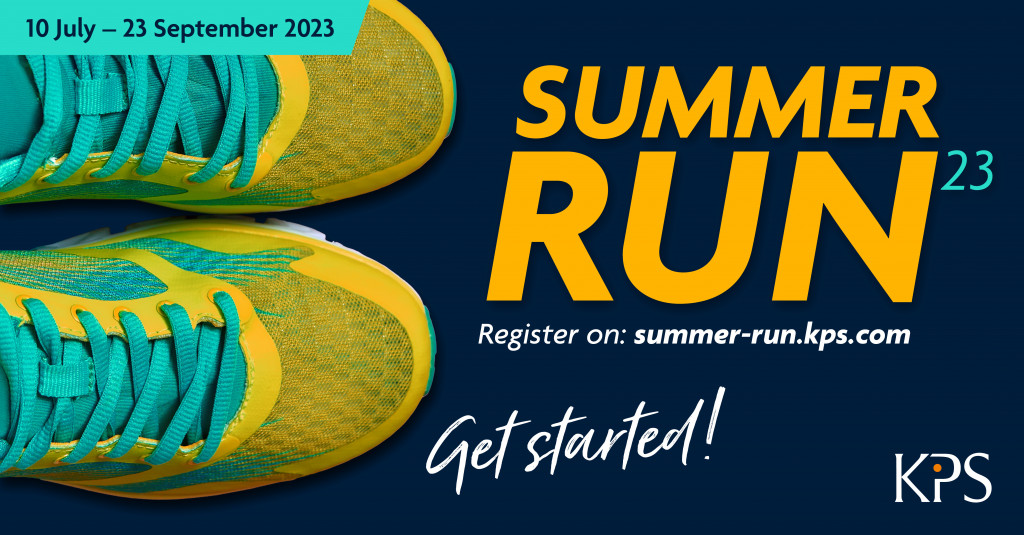 THE KPS SUMMER RUN 2023 | Get started now!
Start: 10 July, End: 23 September 11:59 pm
Our traditional summer has just started. Logging kilometres is possible from now on until September 23rd.
What is the KPS Summer Run about?
The Summer Run is a group-wide initiative to donate to a non-profit organisation supporting children. KPS will donate 25 cents for every kilometre by September 23rd.
Last year we managed to run 55000 kilometres as a team during the Summer Run and set our record. How many kilometres can we do this year? Be part of it!
Who can participate? 
Every KPS employee in all regions! Family members are again very welcome to join: you can add family members in your account.
If you like to inspire your colleagues and your network, we are happy to be tagged
#kpsag #KPSSummerRun2023 #CSR
How does it work?
First step: please register here (last year's registration is no longer valid)
Track your kilometres with a step tracker/fitness or health app of your choice
Log in regularly and record your kilometres: here
Important to know: every step counts! Walking to work, strolling on Sundays, going for a walk with your dog, running or walking at the beach, hiking …… But: we are sorry for all cyclists – kilometres by bike do not count 😉
The team function is available again this year. After successful registration, you can not only add family members but also set up teams with your colleagues.
By the way: No T-shirts will be produced and sent out this year. We want to make an impact on society but we do not want to increase our ecological footprint. Nevertheless: there is a little reward waiting for you at the end.
Who will receive the donations?
We do not know yet 😉 This year we want to give you the choice: Which organisation should we donate to?
We are sure you have many ideas. Please consider the following requirements for organisations:
The organisation/project should focus on supporting children
a non-profit organisation in one of the KPS regions
If you would like to share an idea with us, please send an email to [email protected] by July 27th.
The email should include the name of the organisation and a brief description of the project. After reviewing the submitted ideas, a link will be shared where you can vote for an organisation. The charity with the most votes will receive the Summer Run donation.
For questions please contact [email protected]